Denbow is a company that values fun and being friendly. And today was just another day of many that we were able to find random ways to demonstrate that.
Corey, our part-time staff member has been employed by Denbow for over 5 years now and has grown very comfortable with his responsibilities of shop and wash bay clean-up. And in the spring and summer months, he has an added job of doing a little gardening to keep our yard looking good. On the sunny days, this isn't such a tough job.
When Corey arrives at work each Thursday, he is sure to stop in at the office with his usual friendly hello. And off to work he goes. Today we had the privilege of watching him sing and dance out in the yard as he gardened. This is always such a joy and gets everyone into good spirits.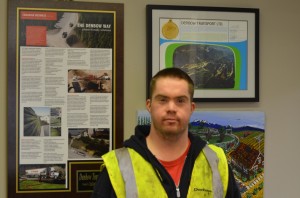 Today we also had a little fun with our newest fleet addition. An electric golf cart. Meant to transport parts and people efficiently around our yard. Staff members all took turns touring areas of the property never ventured too. Bill, the president even got left behind by our receptionist as she took the wheel to go on her own little adventure. This little golf cart even got to make it's first rescue of a vehicle with a flat tire. Car jack in the back and staff members were on route quickly to assist in the flat repair.
So… if you want to take part in our fun and friendly workplace and would like a little tour of the wide variety of activities happening in our buzzing yard, come on by. One of us will be happy to show you around. We even have coffee on at all times or a nice cold bottle of water for the ride.