Congratulations once again to Emil Anderson Construction on winning the 2018 Design-Build Award of Excellence from the Canadian Design-Build Award of Excellence in the major structural project category!
"It's is a pleasure to highlight these design-build projects that not only got the job done in time and on budget, but include a high level of innovation," said Gary Bale, CDBI chair. "The results underscore the benefits of design-build – the team approach – as a project delivery method."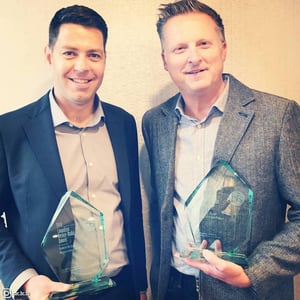 The CDBI Award of Excellence is presented annually to recognize excellence in Canada's design-build industry and to acknowledge design-build teams whose projects contribute to the growth of the design-build profession.
EAC Senior Project Manager, Brian Atwell, P.Eng., and Kevin Pollard, AScT, Supervisor - Transportation and Drainage, Engineering, with the City of Chilliwack accepted the award on October 12, 2018.
Working with Emil Anderson Construction is always a pleasure for us, and we are proud to have assisted on this award winning project in our own hometown!